And so, onto day two of taking photos of the Cloud Gate. I found myself awake quite early and so decided to head down to Millennium Park to get some shots before the place got too packed with tourists. Although there were tourists, they didn't get in the way too much.
On the way up to the area where the Cloud Gate sits is one of the best photo opportunities. Taken from the side of the Cloud Gate, it is possible to get an excellent shot of the Chicago skyline reflected while not actually featuring in the photo. 
If one stands behind the wall in the photo below, it is possible to take the second photo.   
Admittedly, the second on is not that great. The N95 doesn't have optical zoom, so I wasn't able to take a picture without the railing in it. I could crop the shot but I quite like the buildings in the background, particularly the steam rising from the CNA building.
Up on the Cloud Gate are there are some excellent shots to be had. I really like the one below because it shows such a large part of the Chicago skyline, with a much darker sky than the one behind the Gate itself. Yes, that is me on stage centre. I took the photo-op while people were watching some ice skating on the area below.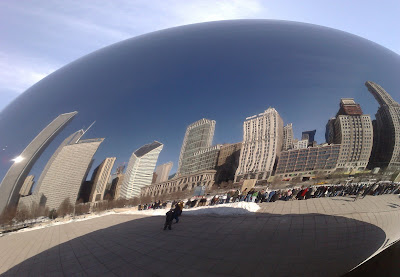 Once the ice skating was over, people started milling around, and getting in my way, so I decided to take some photos from under the Cloud Gate itself, something I didn't get to do last time.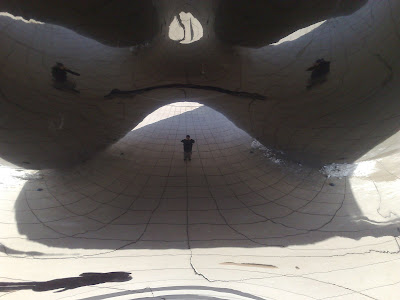 This photo and the ones below are taken from the concave area in the middle of the bean. I could have stood there and taken hundreds of photos. Everywhere you looked there were different shapes and reflections happening. I only took these three with my phone camera as there was a family walking towards where I was standing and would have interfered with the photos!
I hope you enjoy looking at the dawn and dusk collection of my Cloud Gate photos. I'm sure it will feature again on this blog since I will probably go out to Chicago again someday, and since I love the way it looks I will definitely go there again.
Be sure to click on the images to see them in larger format.