I spent the weekend up in Liverpool. There are some quite picturesque parts of the city. One of the nicest areas of the city is Hope Street. It is on the outskirts of the city and has a cathedral at each end (one of which is the fifth largest in the world). Other features of the road are The Everyman Theatre, Liverpool Philharmonic Hall, Luggage sculpture, The Philharmonic Dining Rooms, The Everyman Bistro, and various other cafés and restaurants.
Every year there is the Hope Street Festival which is a food and drink lovers paradise, as well as including many varied performances from artists, actors, and musicians. I recommend going there if you find yourself in Liverpool.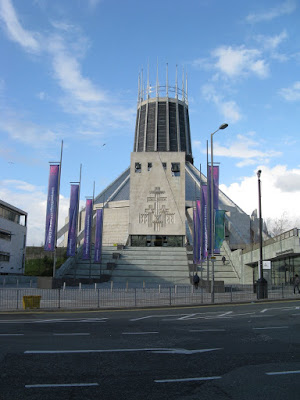 Liverpool Metropolitan Cathedral
With everything that Hope Street has to offer, I thought I would take some photos with my new camera, mainly to blog about the street, but also as a possibility of placing them on Picture Nation (my stock website of choice). When I downloaded them off the camera, I was not impressed at all. They are very dark, and the shadows make the photos look very flat. one can also see that I didn't actually take a second look at all before taking the pictures.
So, back to the drawing board with this set of photos. If you are taking street scenes, or pictures of a public place, take a second look before pressing the shutter release. If I took a second look before shooting the cathedral, I may have seen the seagull flying past, and probably would have waited for the person walking up the steps to move away. The other two have similar problems (the person by the theatre, and the car). I also would have realised there was no longer any light in the street and not taken the photos. Still, if I got it right every time, there would be no fun in photography for me.